9th February, 2011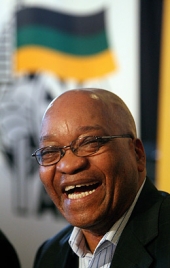 Thursday sees the President's State of the Nation Speech. When old T-Boze Mbeki was still Prez, we tried to launch a game where every time he said "poverty" we'd knock one back, but his speeches were so droll that nobody could stomach more than a few minutes before passing out for boredom. Since many have no taste for the political, we thought we'd see if we could bring a whole new audience to the current Head of State's remarks that start the parliamentary year… by playing a drinking game! Are you in?
Excellent!
Here are the rules:
1. You will need a litre or two of some kind of liquid. You may use any kind of drink you like – hardcore phuza, water, wine, beer, tea, soft-drinks or even coffee. We discourage the use of methylated spirits, diesel and cat oil, for health reasons.
2. You must watch the entire speech – unless you lose consciousness after the first 40, 45 minutes – in which case you are exempted.
3. Every time the Prez says "Absolutely!", clears his throat or pushes his glasses up on to the bridge of his nose; you must drink one shot of your choice liquid.
4. It will be fun to play on your own, but even more fun if we all play together – so follow the course of the game on Twitter – http://twitter.com/#!/GarethCliff and post your own minute-by-minute updates. If you like you can use #JZSOTNDrinks to tag your participation. You can also post your comments on facebook at http://www.facebook.com/pages/Gareth-Cliff/101197616874.
5. If the Prez mentions ABSA, "Nquza Hill" or starts laughing, you have to double the quantities  consumed.
6. Make sure you don't have to drive anywhere after this game. After-all, it's Phuza Thursday – and even excess coffee will render you a zombie.
Will you be the last man standing?
Good luck! See you on Thursday at 19h00! Viva Democracy Viva!
G