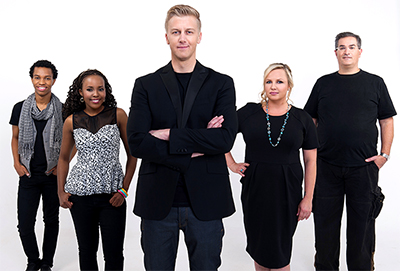 CliffCentral.com – launched on 1st May 2014 – celebrates one month of "netcasting" with almost a million page views.  Having taken the leap from traditional terrestrial radio to the future of internet and mobile, Gareth Cliff and team plan to create the pre-eminent "infotainment" online content hub.   It's about sharing in real conversations – everything that happens in our world – everything we all experience every day – makes us think…makes us laugh…makes us cry…..makes us angry….inspires us… what makes us human. CliffCentral.com broadcasts from 6am – 6pm and the programming is repeated so you can always catch up later.  Alternatively, podcasts are available to listen on demand.
CliffCentral.com starts the day every weekday morning with "The Gareth Cliff Show" and his trusted team – Mabale Moloi. Leigh-Ann Mol, Damon Kalvari and Siya Sangweni-Fynn – uncensored, real conversation about everything in the news, everything that happens in your life and everything we all experience every day, along with first-class guests, edgy material and a healthy dose of humour, intelligence and inspiration….and lots of phone calls!  "The Gareth Cliff Show is simulcast on Comedy Central (DSTV Channel 122), will be moving to the earlier timeslot from 06.00 – 07.15 on Wednesday 4th June.
Between 09.00 and 15.00 every weekday – hourly shows hosted by well-known personalities and experts covering a wide range of topics and issues news with the Daily Maverick journalists; "Candid Business" with Business Report Editor Ellis Myandu; Leadership with Adriaan Groenewald; "The CasperRadio Show" with Casper de Vries and his team; "TG Squared" with Trevor Gumbi and Gabi Mbele; "The Buzz" with Jen Su and Jason von Berg; "Blaque Issues" with Tumisho Masha and Monwabisi Thethe; "Rockstars and Rookies" with Hlubi Mboya and Jade Reinerstsen; "Womandla" with Phumi Mashigo; Sex Talk with Jonti Searle and Black Spider; Law with Garry Hertzberg; Health with Dr. Jonathan Witt; "Heavy Petting" with Leigh-Ann Mol and even "Keeping Up With The Kalvaris" with Damon and Bernice….just to name a few.
While having some of the most well-known broadcasters, personalities and experts in the CliffCentral.com stable, the aim was to also encompass ordinary people who may never have had an opportunity before to showcase their talents or even just share their areas of interest. To this end, some 1000 live auditions were held during May yielding amazing results.  Every afternoon between 15.00 and 18.00 "CliffCentral Conversations", hosted by young up-and-coming broadcaster Arye Kellman will include guests (and successful auditionees) bringing  their particular flavour and engaging with the wider audience with live phonecalls, social media and WeChat messaging.
The range of conversations include sport, finance, legal, beauty, fashion, "The Stars" – astrology…as well as "The Stars" – celebrity gossip, technology, gaming, youth panels, education, entrepreneurship, health and fitness, love and relationships, social media, inspirational stories, television, movies, lifestyle related topics…everything that is relevant to our audience.   There will also be a slot for ongoing auditions so the door remains open to join in.       Some of the applicants who are potential talk show hosts will be developed by co-hosting some of the shows in preparation for weekend programming on CliffCentral.com
Listen live on www.CliffCentral.com; www.dstv.com; Wechat CliffCentral Account