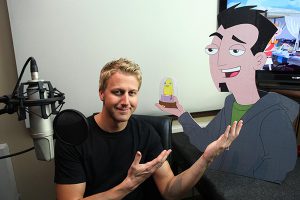 I'm thrilled to play a cameo role in Phineas and Ferb, the number one rated show on Disney XD and the top animated series on Disney Channel (DSTV Channel 103). Here are all the details…..
SOUTH AFRICAN RADIO PRESENTER, GARETH CLIFF, TO STAR IN DISNEY SERIES PHINEAS AND FERB
South African star DJ lends his voice to number one animated series
Episode to air at 09:45 on Saturday 16th March
Johannesburg, 4th March 2013: South African radio presenter and Idols judge Gareth Cliff is to lend his voice talent to TV's number one hit animation, Disney's Phineas and Ferb. Cliff has been cast as a Ducky MoMo salesman in the third season of the BAFTA-nominated and Emmy-award winning animated comedy series.
In South Africa, the series is broadcast on Disney XD (DStv Channel 304), which has consistently ranked as the most popular kids channel in the country.
Animation fan Cliff is just one of the latest of a worldwide legion of celebrity guest stars including David Beckham, Ben Stiller, Michael J. Fox, Selena Gomez and Slash. With more than 100 episodes and counting, the TV series, which has proven a hit with adults and children alike, has attracted over 289 million viewers worldwide and boasts First Lady Michelle Obama as one of its many fans.
Series creator and executive producer Jeff 'Swampy' Marsh comments: "Dan Povenmire and I shared our love of comedy when we were creating Phineas and Ferb; it was one of the things that bonded us creatively. Having had the opportunity to work with some of the best talent over the first few seasons of Phineas and Ferb has proved immensely popular with the fans and is incredibly exciting for us. Adding the talented and hugely funny Gareth Cliff, who is loved by kids and adults across South Africa to that list, is hugely exciting"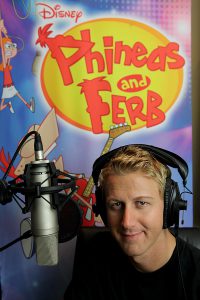 With his episode premiering in South Africa at 9.45am on Saturday 16th March on Disney XD (DStv Channel 304), Cliff adds: "I really enjoy Phineas and Ferb, so I am thrilled to be part of such an iconic series. Doing a voice-over cameo is a first for me, so I jumped at the challenge! It's a show that both adults and kids of all ages can enjoy together and I can't wait for everyone to see my episode."
In the episode Tri-State Treasure: Boot of Secrets, Phineas and Ferb venture on a city-wide quest to help their father unearth a missing piece of Danville history, unaware that there are other less scrupulous collectors close behind them. Enter Cliff, who voices an antique dealer who has a Ducky MoMo in his possession, which Candace (Ashley Tisdale) tries to buy. Meanwhile, Doofenshmirtz makes himself younger to win a children's film festival. The episode also guest stars Tim Curry as Worthington.
Now in its third season, the series has gone from strength to strength. Currently Phineas and Ferb is the number one rated show on Disney XD and the top animated series on Disney Channel (DStv Channel 303) with kids. The show recently enjoyed its highest ever ratings quarter with 94 million viewers watching across EMEA.
Disney Channel recently announced that it had ordered a fourth season of the BAFTA-nominated and Emmy Award-winning TV series, and will see new episodes rolling out into 2014. The popularity ofPhineas and Ferb has been mirrored across Disney's other pisions as the Disney Channel show achieved its best ever quarterly ratings across EMEA, and spawned not only a phenomenally successful movie but books, music, apps, magazines, consumer products, and a feature film in development for 2014 from Disney Studios.
Phineas and Ferb centres around the adventures of Phineas and his English stepbrother Ferb – played by British actor Thomas Sangster (Nanny McPhee, Love Actually) – who set out to conquer boredom and make every day of their 104-day summer holiday count, much to the annoyance of their older sister, Candace, played by Ashley Tisdale (High School Musical). The series is co-produced and created by Dan Povenmire (Family Guy) and Jeff 'Swampy' Marsh (The Simpsons).