Ten years ago, if you told someone you were listening to a podcast, they would have asked what a podcast was.
For the ten years that followed, podcasts became the dirty little secret people in-the-know shared with each other. "Did you hear that podcast about…" or "The latest episode of Tim Ferriss is out, have you downloaded it yet?". Now it's decidedly democratic. People go to podcasts to learn, to inspire themselves and yes, to hear about products and services. Apple just opened up their podcast analytics and advertisers who might have been skeptical about podcasting can now rest assured that people are listening and they're listening intently. According to NPR, 75% of podcast listeners also took action on a sponsored message. Those rates of ROI are unheard of in just about any listening medium, ever.
Breaking through the barrage of advertising messages is getting harder and harder. You used to be able to buy a TV ad during the TV news, soap operas or on drive-time radio and you'd be exposed to a big enough audience to sell your product. Now those audiences are breaking down into ever smaller niches and they're spreading into the tiniest spaces on the internet, looking for content that is precisely what they want. While mainstream media remains powerful, their ability to target messages at the right people is dwindling – and so advertisers are looking for smaller audiences where there is no wastage.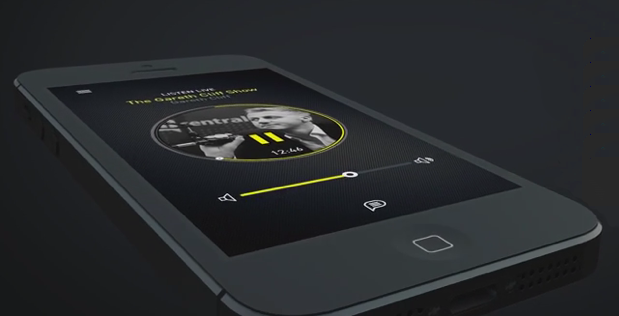 We tell our clients that we're like the Netflix of Audio. Just like Netflix, we started off in a very different place to where we are now. In the beginning we were focussed on being an alternative to traditional radio, a live, online streaming service with shows. Now we're far more interested in producing bespoke branded podcasts and long-form conversational offerings – a menu of information, inspiration, empowerment and entertainment. Branded podcast series are the hottest content properties in the US at the moment – series that deal with everything from entrepreneurship (Shark Tank investor Daymond John's Rise and Grind and podcasts from Seth Godin and LinkedIn founder Reid Hoffman) to history to tech to philosophy are being sponsored by forward-thinking brands who understand that associating themselves with powerful, interesting content IS the new form of advertising. They don't have to create it themselves (in fact some advise that they shouldn't), but they can reap the rewards of being involved in the kind of podcasts that get people thinking, talking and buying. When we started CliffCentral.com almost four years ago, very few brands in South Africa saw the eventual roll-out. I'd be lying if I said we even saw the full extent.
Fast Company's Melissa Locker just published an article on podcasting and had this to say: "When listeners hit play—or better yet, subscribe— on a sponsored podcast, they are getting a lot of one-on-one time with a brand, which for a brand is a very valuable proposition." That's the holy grail of ROI (return on investment) – and all those buzzwords, like engagement, suddenly start to mean something in the context of a podcast.
If you want thought leadership; meaningful interaction; a space to explain ideas, new products and positioning – if you want to appeal to the leading edge of the market, you simply cannot afford not to be involved with podcasting, and in particular branded podcasting produced by an expert in storytelling, sound, authenticity and audio production.
Give us a call, let us help you tell your story to the people who count.