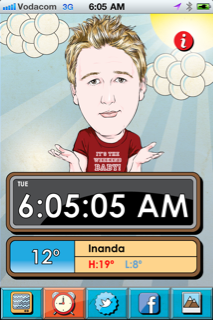 Have you joined the digital revolution? It's well underway and globally, South Africa has one of the highest numbers of users accessing the internet via mobile phone. Facebook has 750 million users – if it was a country it would be the third biggest in the world after China and India – and Twitter is gaining momentum with 200 million tweets.
With the recent explosion of Apps, Apple products and the number of associated downloads, Apple continues to entrench its position as a trend leader. With a total of 15 billion app downloads and a selection of over 465 thousand apps, the iTunes App Store has started an app phenomenon worldwide.
I'm proud to launch the first South African "personality'" app – an interactive and content-driven iTunes application, offering you additional content in a fresh, cool way with cutting edge technology….and it's free. This initiative is the next step in the convergence of media, content and technology.
The App is free to download . It includes a unique alarm clock with a variety of recordings for your wake-up call, along with the day's weather from wherever you may be located. It also integrates my Twitter and Facebook communities and will feature a daily video blog chronicling the issues of the day. And it's for you!
.
The Gareth Cliff App is available on iPhone and iPod Touch with the iPad launch coming next month. Here's to the future of media!