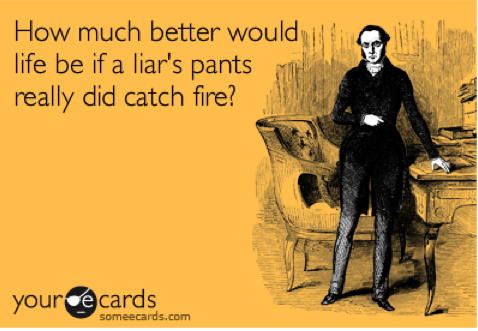 The reason Jacob Zuma, Oscar Pistorius and Shrien Dewani make us all so cross is because we know they're lying and we know we wouldn't get away with those kinds of lies if we tried them. Imagine someone builds you a R240-million house, all you have to do is lie that you didn't ask for all the extravagances, and they'll shut up and pay – and because people are scared of you, you'll get away with it. Imagine you kill your girlfriend, lie that you thought it was a burglar, hire some lawyers and cry a lot – because you're a celebrity and people are stupid, some of them will believe you. Imagine you hire killers on the Cape Flats to murder your wife and then tell everyone you have mental illness and suicidal tendencies in order to delay your extradition to a trial – and waste two years before you're eventually made to explain yourself. These people annoy us because common sense tells us they're bullshitting and yet, in civilised societies we're not allowed to point fingers. We want to point fingers. We need to point fingers.
People (especially pious people) keep telling me not to judge. Judging is what got us to this point in our evolution. You judge the distance between the sabre-tooth tiger and the tree, and you make a dash for it. You judge that the ledge is too high to jump off of, and you survive. You judge another person's trustworthiness and you either do business with them or you don't. When people tell you not to judge, they usually mean you shouldn't criticise them or their decisions – or a situation where they have the opposite opinion to yours.
The onus also seems to have shifted in cases where someone is caught in a web of lies. There seems to be either a lack of authority about the truth or a lack of accountability for it everywhere. Either way, if you accuse someone of talking nonsense, somehow you're the bad guy. It should be the other way round, don't you think?
Imagine you're at a lunch and some guy can't shut up about how he just bought a McLaren or owns a house in Italy. You know this is patently untrue. Something we're taught from childhood seems to make us want to shut up and tolerate this kind of pea-cocking. What really should happen is that you should get up and tell the guy in question to stop talking rubbish. Nobody does that. If they do, people round the table might actually think he's the rude one. Unless you come like Gerrie Nel, armed with files and photos and bloodstained duvets that prove someone is being dishonest, you should humble yourself and let them keep mouthing off. The difference between truth, fiction and opinion is so blurred.
I think much of this comes from a general dislike of confrontation. That's why Zuma, Pistorius and Dewani can keep up their lies. People don't want to cause a scene, disrupt the peace or make anyone uncomfortable. Being quiet and allowing them to continue corrupting the truth will only delay the inevitable and make the truth, when it eventually comes out (and it always does) that much more painful to hear and bear. If we all had more regard for the truth than for being popular with our fellow citizens, associates, friends and family; we'd be willing to stand up and ridicule these lies in open, public ways. I'm going to ask you to imagine again, but this time instead of making you frown, I'll make you smile:
Imagine the ANC NEC calling an emergency meeting and telling Jacob Zuma to either repay the full cost of Nkandla and resign immediately or face prosecution. Imagine Oscar Pistorius breaking down in the dock and admitting that he's an incendiary, complex man with a lot of psychological problems and that he might have been responsible for the murder of a girl who engaged him in a furious argument. Imagine Shrien Dewani manning up and saying "I'm willing to face trial, to present my case and to stop putting every obstacle to justice in the way of prosecutors."
Now go back to that lunch I told you about, stand up and look the boastful guy in the eyes and tell him he's a bullshitter. Do it, you might upset the party, but you'll gain bucketloads of respect in the long run.