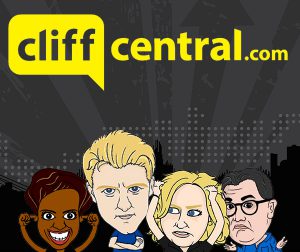 A lot of people know we've started something new. Not everyone has  figured out exactly what it is, where it is, or how it's going. Here's the low-down on this 10 week old baby – CliffCentral.com
It feels like a long time, but I did my last FM radio show only three months ago. After enjoying some fifteen years on radio – from Tuks to 702 to 5FM – and loved every minute of it, it was time for me to do something new …to have my own business…online radio or as we call it…."unradio".
Many people have questioned the logic of giving up a large listenership on national radio for a medium which attracts relatively tiny audiences by comparison, with online radio being such a new concept in South Africa.  Having been an early adopter of both Facebook and Twitter and witnessing the change in the way people communicate, being part of creating the next generation of broadcasting, or rather "net casting", was a natural evolution for me.
In the beginning it was just going to be my show, for three hours a day – and now we have a whole online talk radio station -12 hours of live programming every weekday.  It's a combination of some of the most well-known personalities in South Africa as well as a launch pad for aspiring new talent.  In our first month we auditioned, live on air, over 1000 of the most interesting people I have ever heard on radio. The chance of any of them ever getting on the air on a traditional radio station were absolutely zero. Creating opportunities for talented young people is what is giving me the most personal satisfaction at this time.
As with all pioneering ventures, we are prepared to experiment to try things that haven't been done before. One of those experiments was Comedy Central simulcasting an hour and a quarter of my show every morning.   The first month we started at 7.35 and then moved it to 6am the next month.  After a couple of weeks we agreed with Comedy Central to discontinue the simulcast.   It takes time for habits to change and focusing on our core business allows us to now concentrate on building, rather than fragmenting,  the CliffCentral platforms – website, WeChat and social media.
WeChat has proved to be an outstanding partnership.   In just ten weeks we have over 111 000 subscribers and seeing a daily increase in the messaging facility direct to the studio.   It has also allowed us to interact with our audience not only with the live streaming but also, broadcast messages, audio notes, chat rooms and direct messaging for advertisers.   We're working closely with the WeChat team on an ongoing basis to explore new ways of maximizing interactive engagement with our community.
Everyone wants to know who's listening. It's hard to know what to measure – because we're sailing into uncharted territory. We've consulted "experts' in the technical field with regard the correct metrics.   We don't want to compare ourselves with free-to-air FM radio, mostly because what we're doing is so different.   The actual live "listening" forms a small part of a holistic approach which aims to integrate the multiple ways people are engaging on the various online platforms.
After ten weeks, CliffCentral.com is already a thriving community of engaged, interactive conversations that connect people across online radio, social media, WeChat, our website and face-to-face. We have 111 000 WeChat subscribers; 44 000 Facebook friends and 26 500 Twitter followers. The podcasts downloads are gaining momentum with 38 000 downloads of my show alone during June. With regard actual listening, it's no longer "listeners" but  "unique IPs", "streams", "users", "clicks" and "page views".   While we're figuring out these metrics, many people are still figuring out how to even listen (just like with all new things).
For those who are interested, here is a snapshot of a week, one month after launch from 1-7 June 2014:  20 681 unique IPs listening to our stream, via WeChat and Cliffcentral.com. On the website we had 15 966 users, 32 660 sessions and 78 792 pageviews logged. For the whole month of June we had 65003 unique IPs listening to our stream; and on Cliffcentral.com for the whole month we had 47 209 users, 11 6021 sessions and 282 242 pageviews logged. Only streams longer than 1 minute could be counted and the statistics were compiled using Sawmill and Google Analytics.   You see what I mean!   If you happen to be listening with friends or colleagues from one computer or phone – sorry you won't be counted!
Our aim is to start small and build a solid foundation, accompanied by like-minded contributors, advertisiers and "un"listeners" who share our entrepreneurial spirit.  I'm more convinced than ever that this will be the medium of the tomorrow.  All ideas and suggestions are always welcome.
Gareth