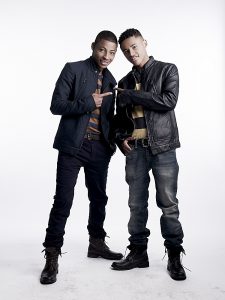 "Living the dream" has never been more real for Vicus Visser, South Africa's YouTube singing sensation, found in Bloemfonein in February 2010 after an extensive search by overseas and local record companies. Vicus, together with his brother Vincent, is heading for Washington DC to perform at the Kennedy Centre on 10th February 2013, representing South Africa to pay tribute to Nelson Mandela and Martin Luther King.
When 5FM presenter and Idols judge Gareth Cliff was enlisted by international record executives to help find the elusive10-year-old YouTube kid, Vicus, now 17 years old, was found in the township of Heidedal, a place better known for poverty, crime, drugs and alcohol. Offers were made locally and from abroad but Vicus and his family made the decision that schooling came first and so did South Africa! Gareth Cliff and his business partner Rina Broomberg agreed to manage and mentor Vicus and brother Vincent, and relocated them to Johannesburg in 2012 where Vicus successfully completed Matric and has begun recording his album with David Gresham Records.
After hearing about Vicus, the South African Embassy in Washington DC invited him and his brother to perform at the Kennedy Centre and other diplomacy events for Black History Month in both Washington DC and New York. According to Gareth Cliff, "Vicus has demonstrated extraordinary maturity and resolve in putting his education and his country over and above the tempting 'quick fame' international offers. It has paid off with this amazing opportunity to perform for South Africa in the United States to honour his personal heroes, Madiba and Martin Luther King. So dreams do come true!"
Gareth Cliff is to accompany Vicus and Vincent and will also be reporting live from the Capitol. When asked how they feel about their first trip overseas, Vicus has only one word – "overwhelmed". Gareth, who has been a long time Idols judge, says "Not only is this a life-changing experience for the guys who have huge careers ahead, but I'm personally proud to show the world what South Africa has to offer, especially
at such an auspicious event".
Where to next? Both Vicus and Vincent are enrolled with Boston Media House and begin college the day after they return from America, Education remains a priority along with recording an album this year. Vicus is a South African story of hope, change and possibility – an example of a strong mother who managed to raise her children under adverse circumstances with a foundation based on faith, values and respect. Dreams can indeed come true.