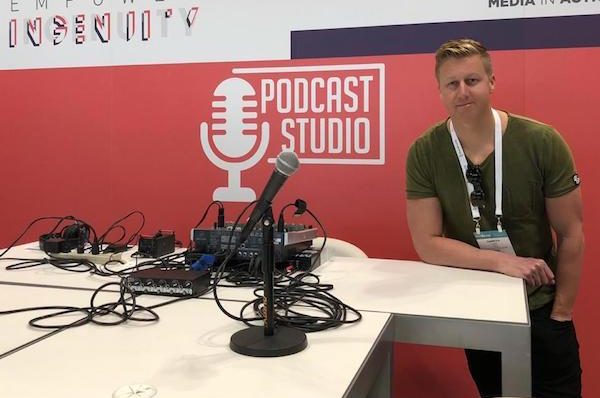 Facebook just launched their first ever original podcast – Three and A Half Degrees – and if there was ever a moment podcasting became totally mainstream, this is it.
The basic idea is that we used to say we were all within six degrees of separation – or six degrees of Kevin Bacon, as it became known. Facebook's podcast series seems to suggest, in a connected digital world, that we're now separated by only three and a half degrees.
What's exciting about this new adventure at Facebook is, as Matt Sutton (Global Brand Marketing Manager at Facebook) says: "We saw this as an opportunity to not talk about us. We thought that if we're going to try and enter the space and do a compelling show for the industry, we wanted to do something that people would actually want to tune into, and we have these wonderful people who have stories that need to be told to the world."
The difference between this and so much of the branded content that has come before is that paying clients (even Facebook) are realising that a great podcast from a brand is not a podcast about the brand. It's about what a brand is passionate about, what stories it can uniquely tell, and what distinct point of view it can bring to a show.
The good news is that in this brave new digital world where everyone can now be a broadcaster and media owner, every brand now has the ability to communicate directly with its customers. That's what we're doing with our clients at CliffCentral.com, with podcast series becoming a major focus of our business.
Just to name a few examples, with Taylor Blinds we're doing a series on the great people of history – telling the stories of men like Alexander the Great and Shaka Zulu, because Taylor Blinds love those stories and want to talk to people who also love them. Other powerful podcasts series include Man-to-Man Talks with Carling Black Label – honest and heartfelt conversations about what it means to be a man in today's world; Discovery recorded a series on Oncology, and Phembani Investments have a sponsored a series currently in production to raise awareness about human trafficking.
With podcasting being the fastest growing medium in America (70% growth year-on-year for the past three years according to Edison Research, and 50% growth in South Africa last year) through innovative content marketing strategies, together with PR as a powerful partner and social media marketing as the primary distributor of the content, an integrated and modern media plan may be implemented. Instead of just pitching your products or services, it's about delivering information/stories that makes your consumer more intelligent, inspired or entertained. How are current events shaping our industry, and where can we be involved in those trends?
If our six degrees of separation has now been reduced to three and a half, then the relationship between brands and consumers is now the closest it's ever been. All the middle-men (the agencies, buyers, media owners and production houses) have been disintermediated. It's now you and us.
Let's talk! By working collaboratively, let's bring fresh insights and creative angles to craft powerful stories for your own media channels (as well as amplification through CliffCentral platforms). Together, we can increase brand awareness, educate audiences, position you as a thought leader, and build customer loyalty.
Email gareth@cliffcentral.com