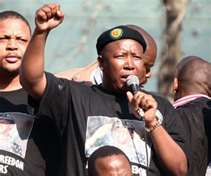 So here we are, repeating some of the ANC's most popular performances, under different circumstances. The dance is still the same. When the makeshift alliance of COSATU, the SACP and Youth League got together (under the banner of 'the enemy of my enemy is my friend') in Polokwane a few years ago, they had a singular purpose: to break Thabo Mbeki's chokehold on power. It worked. They rebelled and installed their own candidate, Jacob Zuma. In some ways it was a victory for democracy, in some ways a failure of party discipline. I would rather err on the side of the former – the latter sounds too Stalinist to contemplate. We moved on, got used to the new regime and forgot just how despotic Thabo's intelligent, but centrist and loyalist administration was. In place of it we had the animal magnetism and personal charm of JZ, and a concomitant inability to make hard decisions, lest he angered one of the disparate groups that thrust him to power. It was never built to last.
Now it's 2011 and Julius is the one facing a disciplinary hearing. In precisely the way JZ dealt with his detractors and supporters during his rape trial, Julius hopes to win the war, even if he loses this particular battle. The prize is the future of the ANC and, as a bonus, clarity on the future of Julius Malema himself. Whatever is decided, this is not about regime change in Botswana or disruptions on the streets of the Johannesburg CBD. It is, just like Polokwane was, and just as Mangaung will be, about power. If Julius is not taken in hand by the party, reprimanded and punished very publicly, they will hand him the greatest degree of power yet achievable. It will also mean the destruction of Zuma. If he is disciplined, and the manner of his discipline is severe enough, it may cut him off from the succor of the only real family he's ever had. Fearless as Julius is, he may find himself in the wilderness, even temporarily – and his influence will be much diminished. Will Julius emerge from this a victor, like Zuma did after Polokwane, or as a victim, like his once-arch nemesis Mbeki? Ironically Julius has suddenly developed an empathy with the old technocrat he helped deliver into his own political wilderness and whom he once famously called counter-revolutionary. Could Julius be looking in the mirror?
The mysteries of the ANC's internal commitees are deliberately kept vague, so that answers to uncomfortable questions can be spun in almost any light. Even the humiliating fall from power of an incumbent President may be termed 'cadre redeployment' by the spin-doctors of Luthuli House. This time however, I am convinced the Disciplinary Committee will be clear, specific and completely rational in their ruling. They have to be. This isn't about discipline, this is about the future of the party. Any side-stepping, obfuscation or vagary on the part of the party will mean abject impotence. Of course, perceptions will have to be managed, and risks taken ahead of the big conference in Bloemfontein, but I think there will be considerable pressure among members to toe whatever line the party proposes – and I say the party because the disciplinary committee has probably received quite explicit instructions from stakeholders in the verdict. Just because both Kgalema Motlanthe and Jacob Zuma were outside of the country at the time, doesn't mean they weren't in charge. I also deliberately put Motlanthe first in that previous sentence. The man most likely to chart a course to victory in Mangaung is he, and undoubtedly he will be our next President.
And what about Julius? His usefulness is far from finished. His power only practically diminished. If Julius has as much courage as I think he does, he'll be very dangerous to the ANC from outside of it. Inside, he has gone a step too far. The humility required for him to behave, stay disciplined and remain uncontroversial enough to succeed to greater power is perhaps too much to ask of him, but if it can be done, he will rise (steadily and imperceptibly) to holding greater influence than any before him in the ANC. If he can't behave, he will be broken, or he'll break (at least a large part) of the ANC. Be good, or go wild. Both will cost us, either in the long-term or the short. We live in interesting times, and Polokwane's chickens have come home to roost.