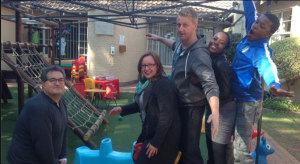 Today, 31st March 2014, I did my last show on 5FM after a decade at the SABC.   It's time for a change. My team and my audience are like my dysfunctional radio family and we want to offer something new and exciting. After two suspensions and several close-shaves, dozens of BCCSA complaints and almost as many management changes at the SABC, it's time to get unhinged!
What about the team?
Leigh-Ann Mol, News Anchor alongside Gareth since he hosted the Afternoon Drive in 2003 and moved with him to the Breakfast Show in 2006, has also left 5FM.   Leigh-Ann confirmed that this was not an April Fool's stunt and that she, in fact, would be joining Gareth – "I could always stay at 5FM, drink more and continue farming cats or I could do something really brave.  I've chosen the latter. I must be drunk!"
Executive Producer Thabo Modisane and Thabo's Assistant Damon Kalvari crossed the floor from 702 in 2003 to join Gareth on Afternoon Drive and also moved with him to 5FM Mornings in 2006.   Both Thabo and Damon will be crossing the floor once again to join Gareth.  "The timing is now perfect to embark on a new journey with Gareth" says Damon Kalvari , "As 5fm also prepare for their own voyage into the future, we part ways, like an amicable divorce. In this case, of course, Gareth gets custody of the children.  I only hope the catering will be good wherever we're going".  Thabo Modisane added "It's been nightmare keeping Gareth within the rules. Hopefully I won't have to do that where we're going".
Mabale Moloi, the "baby" of the team, joined Gareth with the launch of his breakfast show when he introduced traffic reports for the first time on 5FM.  Mabale, then an honours student at KZN University, called into the show one afternoon and before she knew it, she became what Gareth called "the listener in the studio".  Mabale commented,  "My family thought I was crazy to defy convention and ditch microbiology for this crazy white boy.  It was the best move I've ever made and I'm again excited about following Gareth into the future".
The Ginger Ninja Sports Coach Sias du Plessis was the last member to join to the team and that comes with a penalty!   Sias still has time to serve.
5FM Mornings comes to end but we're just getting started.   April is the month of Idols Theatre week at Sun City and holidays.   1st May will usher is a whole new era and I look forward to you joining me. Stay tuned!
Gareth