Happy Holidays!
The holidays are upon us. Here is an excerpt from my book "Gareth Cliff on Everything"
(published by Jonathan Ball – available at all leading bookstores and online).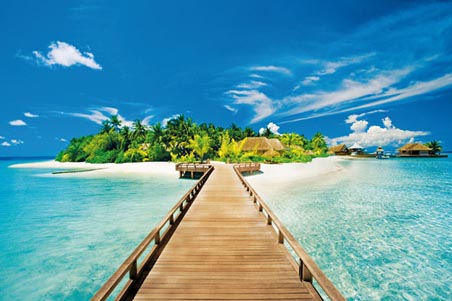 The holidays might be something you¹ve been craving all year. We all love the end-of-year break, and we need it quite badly.  There¹s just one problem: you forgot about all the things that ruined last December for you because it was a whole year ago. Let me explain: there are things about the holidays that can bite you in the backside and turn what should be a festive, relaxing time into a nightmare. Here are ten tips for a happy holiday.
1. You don¹t need to go away to get away. There¹s so much pressure to make the December holiday count. Some people splash out and go to Cuba, America, the Seychelles or Bali. Cape Town, Plett, Sodwana and Ballito can be just as relaxing, and won¹t give you headaches when you do your finances in February. You also might not need three weeks. One week is sometimes enough.
Don¹t be so self-indulgent.
2. Ninety per cent of us don¹t have beach-fit bodies, so we¹re not going to feel too good about being scantily clad in public. You forget how awful you felt when someone you liked last year commented on how hot that other guy on the beach looked, while glaring disapprovingly at you. Just accept that nobody wants to look at you, and make the most of your time on the beach.
Which brings me, conveniently, to point three.
3. You¹re going to eat too much, feel stuffed and have indigestion from all the rich holiday food. You¹ll put on a ton of weight, you¹ll sweat in the heat, and you¹ll hate your body in January. We all think we can moderate this, but we can¹t. Christmas, especially, is pig-out time. Leftovers don¹t help, and neither do the old ladies in every family who feel that their holiday duties consist of them force-feeding you cholesterol-packed rubbish like stuffing and fatty red meat. Just learn to say no. Start practising
now.
4. You might meet some people on holiday. Even with the best of intentions, it is unlikely that these cool new people will still be in your life by June. Normally you¹re already bored with them by the end of the holiday. Maybe they¹re bored with you, too. You¹re not going to meet your new best friend on holiday. Be happy with the people you¹re with ­ family, friends, a lover ­ and forget about that cool group of guys you hung out with at the bar, the girls who you met in the swimwear section, or the celebrity who rented the house next to yours and came round to borrow some booze. They¹re
holiday friends.
5. You¹ll feel guilty that you wish you were single every day you¹re away with your boyfriend or girlfriend. On holiday you¹ll feel a bit hedonistic, you¹ll be caught up in the joy of the holidays and the sense of reckless abandon, and you¹ll behave like a single person ­ but you might not be. This will put your relationship under severe strain because there will be many opportunities for whirlwind romances and fun nights out, but you¹ll have to stay in and do Œcouple things¹. You may end up watching a lot of DVDs. Combat this feeling by accepting the benefits of reliable sex or split up before the holidays start. If you really love the one you¹re with, this tip is invalid.
6. Don¹t spend all your money. Buy everyone a small, sentimental gift rather than splash out on a Pierneef for your mom, just because you¹re guilty that she sacrificed her best years raising you. If you don¹t buy that great-aunt you usually ignore something small, she¹ll harbour a grudge for many years. The Christmas table will be a miserable place for you when she hands you a crummy gift and you have nothing but a smile and reluctant kiss for the old bitch.
7. Your presents will be OK. You¹re not seven years old anymore. When you¹re seven, all those presents under the tree stir up an intense excitement that is the closest any human being comes to experiencing real magic. On the night you expect Father Christmas, every sound is a clue to his being there. You¹re so excited that your little heart beats like an older person suffering from severe cardiac arrhythmia. When you open that present the next day, it is the best thing that ever happened to you. That doesn¹t
happen after you turn 23. You know it¹ll be something practical, domestic or partially edible. Shopping for yourself is more fun. Actually, do that instead.
8. New Year¹s Eve is going to be disappointing. I know I shouldn¹t be so pessimistic, but there¹s so much hype around NYE that people expect it to outclass every other party they¹ve ever had. Chances are that it won¹t live up to your very high expectations. You won¹t even remember the countdown, and there will be annoying people pushing and jostling to kiss you and whoever you¹re with, so you might even end up in a drunken brawl. You¹ll drink too much yourself, lose your phone or wake up with a throbbing headache and a hundred text messages from people whose numbers you deleted two years ago. Just go with the flow and stay more sober than the person on your left Š Unless Charlie Sheen is the person on your left.
9. You might miss work. Not pine after the actual labour, but the routine, the office jokes, the sense of purpose. About halfway into your holiday you may start feeling guilty about things you didn¹t do in the past year, and you might get a little excited about what you could still do in the coming year. This too will pass, but you¹ll notice it becoming more apparent when you hear screaming kids, get badly sunburnt or wake up very hung-over. Forget about it. Work still sucks.
10. You¹re going to be poor in January. You¹ll forget all about your fabulous holiday, your tan will fade, you¹ll be tired within the first week, and people will ask you where you went and what you did for the first three hours of your first day back. After that, they won¹t care, so don¹t keep telling them about the parasailing or the episode with the crocodile in the lagoon or when your wife slipped in the waves and her enormous breasts popped out of her top. Some of them worked through the holidays and they hate you. Just smile.
So whatever happens, whoever plots to screw up your time off, and no matter how bad the bad times are, holidays tend to be windows for some great memories to be made. You deserve them.
From "Gareth Cliff on Everything" published by Jonathan Ball (available at
all leading bookstores and online).