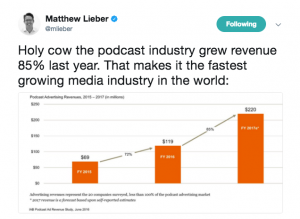 Someone once said to me sarcastically that "anyone and their dog could start a podcast". I thought that was a good observation, even if it came from an idiot. Just about everyone, including big brands, are doing their own podcasts now – and instead of making fun of them, I would suggest you jump on the bandwagon. Hell, even Alanis Morissette started her own podcast a few weeks ago.
In a story published this week by AdWeek, according to a new report from the IAB in partnership with PricewaterhouseCoopers US, podcast ad revenue has grown by 85% since last year and is on track to reach more than $220 million in 2017. Previously, ad revenues for podcasts jumped 73% from 2015 to 2016.
"That makes podcasting the fastest growing media platform in the world." Gimlet co-founder, Matthew Lieber was excited to tell us on Twitter.
General Electric's The Message, The McKinsey Podcast and a number of other branded podcasts have even made it into the top 50 podcasts in the US in the last six months. In a world of narrowcasting and niche offerings, podcasting is the go-to choice for people with little time and a lot of discernment, and brands know they have to get in now or miss the wave.
A lot of naysayers and cynics will say that's all good and well in the US, but here in Africa, things are a lot more slow, data prices are too high, people are used to radio, blah blah blah. I've heard it all before. These are exactly the people that marketers and advertisers should be wary of. Brands can, for the first time in a compelling audio format, reach out to audiences directly and produce high-quality content – but they shouldn't do it alone. A solid understanding of the fundamentals of good storytelling, broadcasting techniques and the experience of those who have used audio to build terrestrial radio audiences will help you get there faster, and reach further. That's what we're doing for our clients at CliffCentral.com – clients like T-Systems and AutoTrader.
In South Africa, all the terrestrial radio stations have started doing what CliffCentral.com started doing three years ago, and to their credit, some do it pretty well. We're already looking at the next frontier… and we have two powerful partners to help us get there – Muzi Kuzwayo and Phumi Mashigo of Ignitive. Between the two of them they have storytelling, advertising, production and commercial experience that will give us an edge and help us take things up a level.
In the next few weeks, I'll tell you what we've learned and how we're planning to change the game once more. Watch this space, and don't get left behind…
G