17th February, 2011
I've never imagined for a second that I was perfect. I know I'm full of stupidity, occasional myopia and some prejudice, but that doesn't mean I'm not capable of correcting myself. I thought the month of love might be a good time to clear the air. To those I have offended, here is your long-awaited apology:
To Former President Mbeki: I'm sorry I compared you to Stalin and begged the ANC to unseat you in Polokwane. You were a thinker and you were sensitive, like the poets of old. I was a loud white guy who criticised you a lot, and it annoyed you and made you justifiably petulant. I'll bring you a bottle of whiskey in Killarney if you will let me in at the gate and not set your dogs on me.
To Cindy Nel: I'm sorry I said that you didn't really win Miss SA and that Sami Sabiti read the results the wrong way round. You're a beautiful woman and you turn me on. It must have been my inability to charm you that frustrated me into being nasty.
To the late Minister Manto Tshabalala-Msimang: I'm not glad you're dead. That's a hateful, hurtful, vicious thing to say and I only wanted you out of the cabinet, not out of living existence. If only I had become an atheist sooner, then God would have ignored my evil prayers. I deserve some shame. If you were here right now, I'd buy some few rounds to try to make up.
To Comrade Blade Nzimande: You're not ugly Blade. What I said was ugly, and it turned me a little uglier. Watch this season of Idols and you'll see how much I have deteriorated. Bad things happen because I deserve them.
To Helen Zille: I'm sorry about all the horrible jokes (concubines, Botox etc), bad impersonations and on-air questions about toilets. You work really hard and you deserve more respect than I have given you. You're also looking really good, and you have much to be proud of.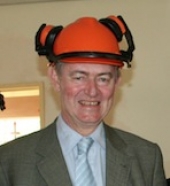 To Alec Irwin, former Energy Minister: Your hair looks great!I
To all the failed Idols contestants: I might have been crass and insensitive, especially in the first season or two. I behaved like an attention-seeking moron. The show is not about me, it's about you – and I've finally grown up and realised that. Randall, I admit, is unlikely to have the same epiphany.
To Mssrs. Lekota, Kortbroek van Schalkwyk and Shilowa: I'm afraid I can't find it in me to forgive you. Your betrayals, lies and pursuit of self-aggrandizement is the most horrible thing I have seen in politics in South Africa since 1976. You can't think it's acceptable to deceive huge swathes of people who voted for you, just to ensure your own political survival. I won't apologise to you, nor should any of us trust you again.
To everyone else who may have tuned in to my radio show, seen me on TV, or read a tweet, post or blog, and found something revolting in my delivery or content, I thought I'd better man-up and own the bad. To the three people I mentioned above, I wish you would do the same.