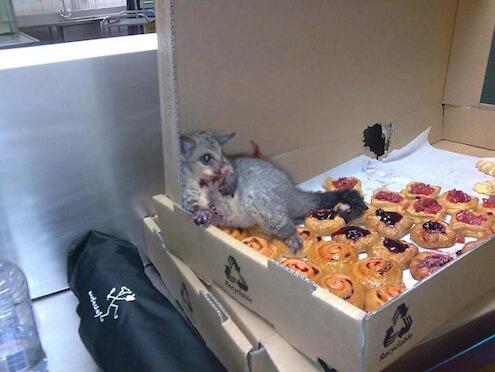 Happy Freedom Day to my favourite country on Earth. But with some sombre thoughts…..This possum ate it's way into a box of pastries, overdosed on sugar and got too fat to fit through the hole it used to get in. So it just waited to be found, jam-smeared for rescue. Thanks to Tom Eaton on Twitter for this. I suspect you know a few examples of people just like this, well-known people, who are so greedy they can't help but help themselves.
The ANC (government)(include the latter term if you choose, because there is such a blurring of lines) is overwhelmed with corruption – and on the grandest scale. Just the other day I heard about a man who gets tenders from a government department and in return lets the minister in question have his way with the man's wife, regularly. Many hundreds of thousands of rands change hands in this transaction, not to mention the dignity of the man's wife. Part of the deal is that the cream the man takes off the top gets returned in sizeable portion to the minister in question. I'm not sure the story isn't just gossip, but then I'm not sure it isn't. Who knows how much more nefarious the deals get, especially lower down the pyramid of influence where the amounts are smaller and the recipients more desperate and depraved.
Part of the rotten, depressing problem we're faced with is that most deployed cadres wouldn't be employable in the lowliest of jobs. They know the gravy train is their only hope at wealth and the material rewards of success, and they're determined to get what they can out of the deal before the tap is closed. This isn't some casual observation tainted with racism (because I'm already assuming that will be the first counter-argument) – the Auditor-General agrees with me. We have dysfunctional, uneducated, dishonest, immoral people in government office, starting right at the top. Because they don't know better, they can't tell the difference between a few thousand and a few million, but they know they want some. Like that possum, they gorge themselves on public money and perks like a fat child eats cake until they can't anymore – and they always get caught – because they're too fat to fit back through the hole.
Gwede Mantashe can call those of us who criticise this disgraceful stealing whatever he likes, but we're not in North Korea, and his propaganda hasn't got the power it might have had in years gone by, when he trained as an apparatchik. In fact people are so furious that they openly boo the President, laugh at him more than with him and are deeply suspicious of every single thing the ANC does and says – including their (it deserves to be said) very positive, powerful election campaign. It's time we pull all the pigs away from the trough and force them to earn their office, earn their reward and deserve our respect. If they won't, we'll ridicule, insult and cajole them into humiliation and resignation – even the thick-skinned ones who refuse to budge. There are good people in politics, even a skeptic like me can admit that, but they're becoming few and far-between as they end up tarred with the same brush as their less salubrious associates.
I don't want fat possums making important decisions and helping themselves. I demand public service – from people who want to serve our great country, not pillage from it. Is anyone listening? Turning 20 means we can't behave like teenagers anymore.